We have seen over the past few years a decline in the aesthetics in the area surrounding the Spire. Littering and trash cans dumped on the sidewalks are not unusual. The City of Denver along with the Downtown Denver Partnership do a great job, but they are sometimes overwhelmed. 
A dirty and unsafe neighborhood is dangerous and further invites neglect and crime. We have seen this firsthand with increased illegal camping, open drug use and trash. Several residents of UpDoNA have taken it upon themselves to clean up the area in the past year or so. Using "nifty nabbers" and buckets in hand they have taken to the streets to clean up the trash.
Conversations with our neighbors made it apparent that many others felt the same way and wanted to improve the condition of the blocks around the Spire. We reached out to others and discussed a neighborhood cleanup project. We advertised for volunteers and planned for the first Saturday of each month. Right now, the participants have been residents of Spire, so we set an initial goal to start and currently focus our cleanup for one hour on the streets between 14th to 16th and California and Lawrence.  As the membership of UpDoNA continues to grow, we will coordinate efforts between volunteer groups in residential buildings that choose to participate.
above: UpDoNA Resident sweeping the street. below: Residents meet at Spire for cleanup day. Photos by Rob Squire Photography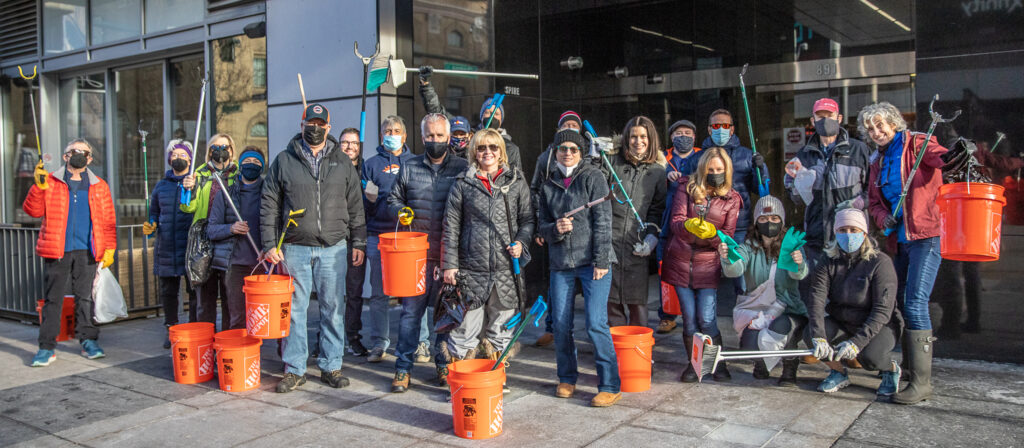 This one step to a cleaner and safer neighborhood has included an average of thirty volunteers the last several months for the organized cleanups. We were excited to purchase additional nifty nabbers as well as buckets and brooms, and we'll purchase more as participation grows. This will allow us to have more frequent cleanups and expand beyond the immediate area.
We have also been working with the city to have coordinated pickup for the trash we collect. We are partnering with the city not only with trash pickups, but also by using the Clean and Safe app as needed and calling on building and parking lot owners when we see safety issues such as lighting, vagrancy, graffiti, and drug use. We have been in contact with Allied Security to discuss how we can support the need for constant surveillance in our neighborhood.
The organization of our residents has had an impact. We want to be able to enjoy our neighborhood and feel safe when we walk out our front door. As we work together and are investing in our community, we can achieve our goals.  We are delighted that so many want to be part of the cleanups and demonstrate a commitment to making a difference. This will only make our community safer and a better place to live.