When someone decides to live in the city, knowing the positive and negative aspects of urban living is a conscious choice. Often that choice involves a centrally located condo with many services, but pets do not have that choice. Whether they know it or not, they will become an urbanized dog who, instead of dealing with a grassy backyard, soon become familiar with a host of other dogs, the elevator, numerous folks in their environment, city parks, and "the concrete jungle." This article attempts to show our UpDoNa readers how the dogs and their owners respond to this city living and its effects on them, their owners, and other condo neighbors.  
UpDoNA members' pets include breeds ranging from many kinds of terriers, golden retrievers, golden doodles, dachshunds, huskies, bulldogs, and a variety of mixed breeds, to name only a few. They range in age from puppies to one and a half years old to twelve. Suffice it to say that they are all good-looking pets immensely loved by their owners and similarly enjoyed by many neighbors.
A surprising aspect of the survey revealed an overwhelming love of the other owners' pets. Comments such as "well mannered," "playful and friendly,"
"an opportunity to meet other dog lovers," and "supportive aspects of the building management" were some positive comments made. One member who was not a dog owner said he liked to see the dogs come and go in the lobby of his building.  A general comment here would be to realize that dogs, like people, don't always like other dogs; they can be known to demonstrate this with lunging, growling, etc.  But an observant dog owner knows to hush their pup and walk calmly away when possible.
Many dog owners report that their pets love the elevator. As one person said (me), "this gives him an opportunity to see other people, not just me."  Many dogs look forward to their elevator rides.  Often, they are a place to play, hug, and be petted by others. As an owner, there needs to be courtesy to other residents and monitor the dogs' behavior so that it is not a disturbance on the way up or down.
An  interesting observation from an owner was that he felt fortunate to live in such an area of plentiful green space. He stated, "There are lovely parks around the city, and the nearby bike trail also provides a nice opportunity to stroll with our pet, meeting other smiling pet owners along the way."
Another comment made by a pet owner was that the condo is perfect for a dog who has allergies like grass, and parents of smaller dogs feel that the size of their condo gives well-needed exercise space as well as the opportunity to do one or two walks a day.
As you can see, the dogs and their owners enjoy many aspects of the urban lifestyle. For as many positive comments, surprisingly, the negatives were few but almost universal.
Most expressed distress over the fact that some owners do not pick up after their dogs. We all agree dogs can have accidents-that is not the issue. Dog owners need to pick up after their dogs so that others (dog owners and non-dog owners alike) will not need to experience the undesirable effects. Spire, one of the buildings in UpDoNA's footprint, has a very accommodating policy that urges residents to notify the desk of any accidents and they will provide timely cleaning and sanitizing of the area.  The problem areas defined by those residents were the indoor park area, carpeting in and around the hallways and elevator, as well as the lobby. If you live in another building in UpDoNa, we'd love to know what your building's policy is around "accidents." 
The second most universal complaint was the constant barking of dogs continually through the day and the night. Owners may want to check out the reason for the consistent barking and attempt to ease the discomfort of their neighbors just like other situations that can occur throughout the building.  Dog training lessons can be helpful but remember that dogs are pack animals and sequestering them on the balcony is never advisable.
When the weather is ten degrees, the owner cannot just open the back door and let the dog out. Like the Postman, dog owners need to be prepared for rain, snow, or sleet and multiple walks in difficult weather. My general comment here would be to think of the health benefit you get from walking your dog and trimming your waistline and enjoying a stroll in Upper Downtown.
Lastly, in our survey we asked for changes dog owners would like to see. Some residents would like a washing/grooming station.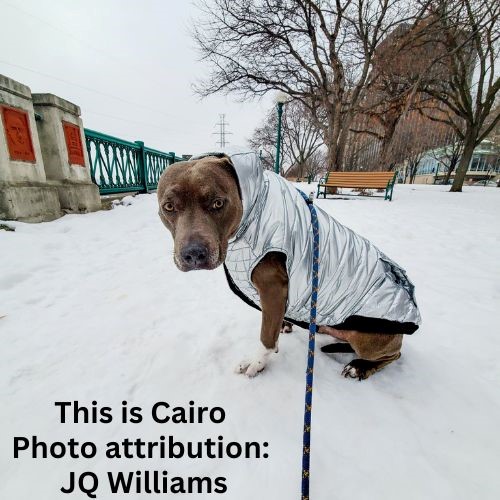 Spire residents were concerned the paw prints leading to the dog park had become faded and urged the building to repaint them, even offering to repaint the paw prints themselves. Another resident felt it would be fun to have a pet event in one of our UpDoNa buildings – a mixer and perhaps have a photographer take photos of all the dogs.
As you know, UpDoNA's area is not small; within it, we have over 20 residential buildings. If you have friends in these buildings, please make them aware of this article and the other good news in our newsletter.

Finally, we are aware that this article is very dog-centric.  We'd love to hear from all pet owners and are launching a Pet of the Month.  To submit an article about your pet, please follow the guidelines:
Article from 100 to 500 words;
Write about how you acquired your pet;
How did you decide on the name;
If it's a pet that you walk, please tell us what your pet most enjoys about Upper Downtown;
Must include at least one photo, with information about who took the photo
Please send your article to Carol Wayne at carolwayne@updona.org.