It is a pleasure and an honor to feature ScooTours.  Jane and David are the owners of ScooTours, Denver Vespa Rental, and Guided Tours, which has been on California, at 14th Street, for 9 years.
While they care primarily to tourists, they have many Denver customers, including residents of Upper Downtown from the Quincy, Bank and Boston Lofts, Spire, and The Lofts at Denver Dry.  Many UpDoNa residents and Denverites take advantage of their fun and informative tours.
Whether their customers are locals or tourists, Jane and David have fun while providing a fun experience.


They teach people to ride in their parking lot and give valuable safety tips. When ready, the customers can go and explore on their own, or they can take a guided tour.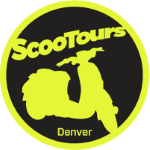 above: ScooTours at the Convention Center. 
Photos by ScooTours
When customers go on their own, David and Jane like to send them through Downtown and Rino, the Golden Triangle and up Lookout Mountain to Buffalo Bill's grave or even Red Rocks Amphitheater.
David and Jane love when local friends and family visit because it inspires them to offer a new way to experience the city. 
ScooTours also hosts corporate tours for up to 18 people.  David runs most of the scheduled group rides, and Jane's Vespa TMI Tours is popular with locals, and occasional corporate clients are drawn to the Tacos, Murals, and Ice Cream.


ScooTours and Vespa TMI Tours are militant about safety.  Despite so many years in business, they have received zero complaints about reckless customers marauding the streets of Denver. Any complaints directed their way have been erroneous; they've been intended for the toy scooters on the sidewalks. It is easy to confuse the two.
David and Jane describe themselves as "Evangelists for the City."  They feel passionate about doing everything they can to return Denver to the great place that attracted them to create their livelihood and business here.
The more neighbors who experience the fun and excitement of Scoo-touring around the city, the better.  It can be a novel way to relish the beauty of the known sites and hidden gems while supporting a local, dedicated business.
Make reservations!
A few notes about customer's obligations: 
A valid driver's license is required, and you must be at least 18 years of age.

You must be comfortable riding a bicycle, based on recent experience.

Positively no use of marijuana or alcohol before or during your ride.
If you want to know what others are saying, you can glance at some reviews on Trip Advisor and Google.
Reservations are strongly recommended. Pick Rent-And-Ride, or a Guided tour, at scootoursdenver.com or call 720-523-3240.
Thank you to David and Jane for your investment in UpDoNa and Denver.