UpDoNA members are involved in many efforts to improve the lives of downtown residents
and the experiences of those who work and play in our neighborhood. Our
relationships with local businesses are an important part of this and are the
focus of our Good Neighbor Committee, chaired by Garis Smith. We have worked
with several new businesses to create "Good Neighbor Agreements", working
together to promote positive experiences between residents and nearby
businesses. Some of these businesses are identified elsewhere in this
newsletter.
The anticipated opening dates of multiple new UpDoNA area businesses have come and gone. These delays are clearly multifactorial in cause, including problems that we have become accustomed to hearing about – supply chain issues and a shortage of trained construction workers. However, a key factor has now become delays related to building permits and related inspections. These permits and inspections are necessary to insure the safety of all of us, but lack of timeliness adds to expenses for the businesses involved and delays revenue coming in to offset those expenses.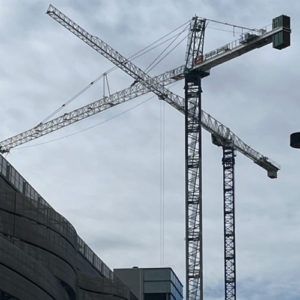 Several UpDoNA businesses nearly ready to open now sit waiting for inspections before
they can move forward. There are many inspections required during and at completion
of a construction project – if there are weeks waiting for some of them, the
whole process is markedly prolonged. This problem is not unique to our
neighborhood or to the city of Denver, but has become worse in many locations
locally and nationally.
A Denver Post Special Report looked comprehensively at these issues and their causes
(October 16,2022 article by Jon Murray). A key factor for Denver was the layoff
of many staff in 2020, including inspectors, in response to low construction
activity related to COVID shutdowns, as well as concerns of impending recession
and impact on the city budget. Many laid off staff took jobs elsewhere and
those positions are now difficult to fill. The city is working to hire and
train staff and to improve process efficiency. They have also outsourced some
review processes. However, major delays remain. Initial project reviews for all
except minor projects currently take 5-16 weeks, depending on type and size (denvergov.org
1-16-23). The city has put a priority on residential over other construction,
which seems reasonable, but doesn't solve the underlying problems.
There is not much that we as UpDoNA members can do about this problem. However,
understanding the problem and its impact on our local businesses is important.
These delays may cause new businesses to be even more financially stressed when
they first open. Our patronage may help them through this. If we have good
experiences, we can spread the word and encourage others to become customers.
Encouraging a business to join UpDoNA as a business member may further
facilitate good experiences for all.