UpDoNA Cares welcomes you with open arms to our small but growing committee. A few dedicated people can make a big difference!  Sign up to join UpDoNA Cares on the UpDoNA website:  Become A Volunteer
 Based on research of organizations working to end homelessness UpDoNA Cares' goals are to: 1) inform UpDoNA members of volunteer opportunities and 2) organize a fundraising project. The committee is studying several organizations and wishes to report on three of them in this newsletter.
The Delores Project and Arroyo Village
The Delores Project is the largest provider of shelter and services for unaccompanied women and transgender individuals in metro Denver, providing 50 shelter beds year round, and a minimum of 10 additional cots during times of need.
In 2016, Rocky Mountain Communities teamed up with the Delores Project to develop an affordable housing community with a shelter and transitional housing in Northwest Denver.  The joint effort resulted in 35 units of low-income permanent supportive housing and 95 units of affordable housing for people in the workforce. The website states that this represents the best of what's possible when partners join to address the housing crisis. There are supportive services on site for health, life skills, and social engagement – all of which are crucial to maintain housing.
Delores Project values include:  -respect, hospitality and dignity for each guest   – serving without judgment   – potential and self-determination of each individual   – belief that the community is strengthened when it cares for those with the fewest resources.
Helen Hedrick met with Robin Wood-Mason, Director of Development and Communications at Delores Project, who was pleased to know that UpDoNA Cares Committee has purchased a table for ten attendants at Delores Project's May 7 Champagne Brunch/Silent Auction.
He suggested preparation of meals as a hands-on way for UpDoNA Cares to contribute and stated that support of further fund-raisers would be welcome as well. Stay tuned for more information and let us know on UpDoNA.org if you wish to volunteer with UpDoNA Cares.
Safe Outdoor Spaces – Colorado Village Collaborative 
In July 2020, Denver Mayor's Office announced a partnership with Colorado Village Collaborative to open several Safe Outdoor Spaces. Warm tents on insulated raised platforms are provided in sanctioned parking lots for people experiencing homelessness. These secure, staffed, service-rich environments provide residents a dignified way to bridge into the workforce and permanent housing. Clean bathroom facilities, a sink with hot running water, and a weekly mobile shower and laundry facility are provided. Dinner is available each day and sometimes lunch and breakfast, depending on volunteer food donations.
Helen Hedrick and Ron Townsend of UpDoNA Cares had the privilege to tour Denver Human Services Safe Outdoor Space with Jennifer Forker, Development and Communications Director. Cleanliness, friendliness, sunshine, and volunteerism flooded the place.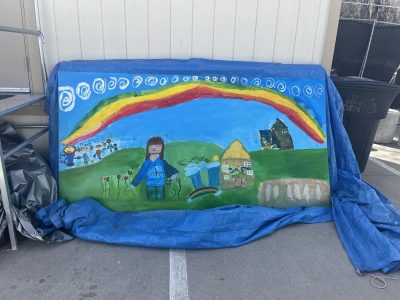 The fifth graders at Bradley International School painted this mural to adorn the SOS at Steele Street. Let's title it, "Everybody has their own journey," a statement Staff Member Ryan made to UpDoNA Cares members as we toured.
According to their website, Colorado Village Collaborative holds these beliefs: -homelessness wasn't caused by homeless people -solidarity over charity -an end to homelessness is possible -inherent dignity of all humans.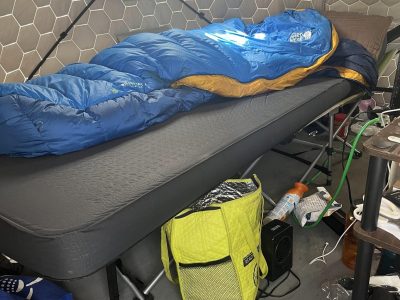 Tents are furnished with high-quality                    sleeping bags and plug-ins for electric                 blankets on especially cold nights.
A greater problem is the 100-degree               temperatures inside tents in summer. 
Photo attributions: Helen Hedrick
Here is the wish list for fans and other needed items:
https://www.amazon.com/hz/wishlist/ls/2T4OZXTIUR29K/ref=nav_wishlist_lists_1?_encoding=UTF8&type=wishlist
Stay tuned for more information about fund raising or volunteering with UpDoNA Cares for Colorado Village Collaborative.  Or jump on their website and volunteer individually!
STEP DENVER
Step Denver, located in downtown Denver, is a residential recovery program offering men a safe place to take their first step toward recovery from addiction. Step Denver developed the Steps for Success program based on four pillars: Sobriety, Work, Accountability, and Community. Men in the program receive guidance from their Recovery Support Manager (a Step alumnus and Certified Peer Recovery Coach), recovery education groups, 12-Step fellowship meetings, career counseling, life skills classes, and most importantly, another chance. "At Step, we can stay sober together better than any one of us can alone." 
UpDoNA Cares Committee plans an in-person contact with this agency in May to explore alignment for a fundraiser. We understand that STEP regularly outreaches to unhoused men living in tents on the streets of Denver.  Again, stay tuned and let us know of your desire to participate by using the form on Updona.org Volunteer page. 
  ON ANOTHER NOTE 
Have you noticed your grocery costs increasing lately? Even if a family is fortunate enough to  have a home over their heads, keeping food on the table is a challenge for many during these high-inflation times.
Here are three organizations UpDoNA members may wish to investigate to consider making a donation.
Bienvenidos Foodbank http://www.bienvenidosfoodbank.org/