Spring44 reflects love, dedication, paying tribute, memorializing.
UpDoNa resident Jeff Lindauer, the founder and owner of Spring44 grew up here in Colorado.  When he was a child, if he or his sister asked their father about anything that had to do with numbers or metrics, his father's answer was always the same. 
Some examples of this are "Dad, how long will it be before we get there?" Dad's response "44 minutes." "Dad, how much does this weigh?' Dad, "44 pounds.", "Dad, what is the length of this?" Dad's answer "44 inches." Jeff noted that no one knows why all weights, measures, times were 44.
When the business was in development, naming the distillery, Spring44 was the obvious choice.  Dad will live on in the heart and soul of Spring44.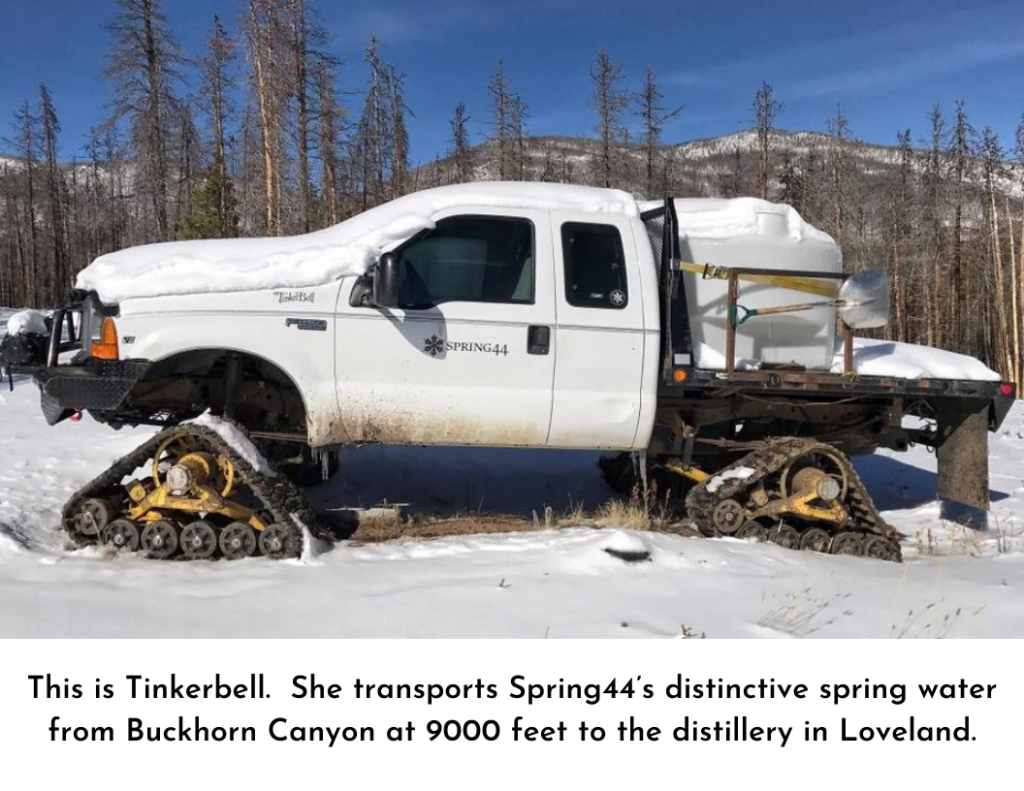 In 1969, Jeff's dad bought property in a remote location in Colorado's Buckhorn Canyon, surrounded by National Forest. Jeff loved the property so much that he declared that, when he grew up, he would build his own house there. Families being as they are, all laughed at him because accessing the property requires a three-mile-long four-wheel-drive trail that climbs 2,000 ft. Well, we can see that it was not a laughing matter. Since 1969, "It is my favorite place in the world, and now it is attached to my way of making a living and to my Father's legacy." "I never saw it coming."
Originally an IT professional, the spirits-making business began when he discovered that the water in the spring was well suited for making spirits. It is particularly conducive for the making of Vodka and Gin.
Spirits won out. One of Jeff's cousins encouraged him to go into the business. A friend who is a water aficionado also educated Jeff about Colony Collapse Disorder and the plight of our bees. This knowledge inspired Spring44 to offer a Honey Vodka.
Bees and other pollinators are vulnerable, so Jeff has embraced a group of suppliers and partnership pollinators whereby a percentage of the profits goes to this cause.
There's straight-up Vodka, Honey Vodka, and three Gins. The Gins vary in flavor, one with juniper, coriander, nutmeg, agave, and citrus notes. Another is described as "Bright" because of peppermint, clove, orange peel, and basil flavors. The third is Old Tom Gin, barrel-aged, with grapefruit, rosemary, lemongrass, and galangal.
Can't you almost smell and taste them?
Spring44 Spirits can be found in many stores, bars, and restaurants in Colorado and is distributed in 18 states. This is a young company that is growing.
Focus groups with blind tastings have been conducted to ensure the quality of the spirits.  Frequently, Spring44 Vodkas and Gins have ranked number 1 – even when tested against high-end, well-known brands.
The best way to learn about and follow Spring44 is on Instagram https://www.instagram.com/spring44distilling/?hl=en or at spring44.com.  On the site, you can also learn more about Spring44 and see photos of the distillery, the actual Spring, and the abundant wildlife.
You will find the blog on the website, which has marvelous and interesting recipes for food and cocktails.  For example, the Corpse Reviver #2 caught my fancy.
Interviewing Jeff, his passion for his work, and his product is palpable.  Jeff is an enthusiastic resident and dedicated supporter of Denver and our UpDoNA organization. To quote him, "UpDoNA is a fantastic initiative that was inspired by the residents where I live. I'm proud to be part of this community and grateful for the opportunity to contribute."
The next time you're dining out or purchasing liquor, look for and ask for, Spring44!